AUTONATION
You have the drive. We have the vehicle.
AutoNation is proud to be America's largest auto retailer representing domestic, import and luxury brands, both on and off the web. Headquartered in Fort Lauderdale, FL, and a member of the S&P 500 (NYSE AN), AutoNation employs approximately 25,000 people at over 300 store locations, representing over 290 new vehicle franchises across 15 states. We are driven to be the best, and we're always looking for passionate, motivated professionals who share the same drive to join us. Perhaps you're one of them.
Let us Search
With just 1 click and a connection with LinkedIn, you can receive job listings that best match your experience.
Jobs in AutoNation
Events Calendar
AutoNation Chevrolet Fort Lauderdale

Date: Friday, July 15th, 2016, 10:00 AM to 2:00 PM

Address: 1300 N. Federal Highway Fort Lauderdale, FL 33304

Phone: 954-564-5271
Store Locations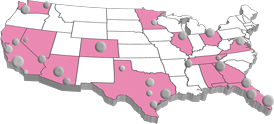 When we say AutoNation, we mean it. We're coast to coast. Click on the map to find the AutoNation Store that best fits your career needs. Find a Store >